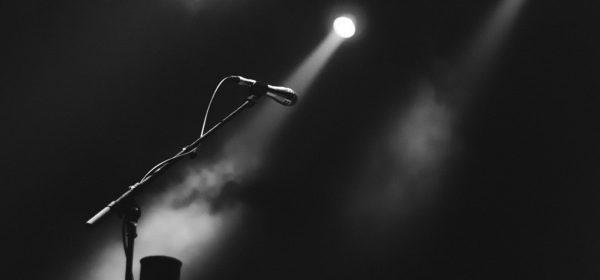 In this episode, Kirby of Gender Mutiny presents the first ever OPEN MIC on air at WXCI 91.7! Musicians were interviewed and each performed an original song. Our fantastic line-up: Erik Krieg; Joseph Coscina; Nicole Thompson; Gutless Wonders (Jesse Lynch & Joe Pacelli); Mackensie Ann King; Jerome Goosman; Joseph L. Gegeny; Kyle Ledouski; Seventeens (Chris Daly, Evan Moore & James Gilbert); and Gender Mutiny (Kirby Athurston). Accompanied by QGM founder and percussionist Quinton Gelderman, who had an extended interview. Songs in between live performances were in recognition of April Fools' Day.
Thanks so much to Kirby, Quinton, and everyone else who performed. Thanks also to Michelle Spanedda and Mike Jardeleza, who took photos and video throughout the evening.
Photos and videos coming soon!
00:02:08 Erik Krieg – INTERVIEW
00:05:20 Erik Krieg – Gone for You [LIVE IN STUDIO]
Tender Suns – April Fool
Autumn Rising – April Fools
Once in a Moon – April Fool's Day
00:14:18 Joseph Coscina – INTERVIEW
00:19:08 Joseph Coscina – Go [LIVE IN STUDIO]
00:24:50 Erik Krieg – INTERVIEW
Fabulous Disaster – April Fools
00:29:25 Nicole Thompson – INTERVIEW
00:35:36 Nicole Thompson – Dare You [LIVE IN STUDIO]
The Mercury Seed – April Fool
00:46:42 Gutless Wonders (Jesse Lynch & Joe Pacelli) – INTERVIEW
00:51:39 Gutless Wonders – Ahead of You [LIVE IN STUDIO]
aprilfool – ballade
00:59:12 Mackensie Ann King – INTERVIEW
01:04:15 Mackensie Ann King – Patience [LIVE IN STUDIO]
Alexandra Scott – April Fool
Tea Cozies – April Fool
01:15:10 Quinton Gelderman – INTERVIEW [part 1]
the scary jokes – Pink Smoke
01:24:48 Jerome Goosman – INTERVIEW
01:29:24 Jerome Goosman – Only Words [LIVE IN STUDIO]
April Fool's Day – Occasional sugars [first 1/2]
01:35:07 Joseph L. Gegeny – INTERVIEW
01:39:07 Joseph L. Gegeny – Banana Swirls [LIVE IN STUDIO]
April Fool's Day – Occasional sugars [second 1/2]
01:46:53 Kyle Ledowski – INTERVIEW
01:51:17 Kyle Ledowski – I Need Ya [LIVE IN STUDIO]
Tender Suns – April Fool
Autumn Rising – April Fools
02:00:00 Seventeens (Chris Daly, Evan Moore & James Gilbert) – INTERVIEW
02:02:45 Seventeens – Back Now [LIVE IN STUDIO]
Community of Living Things – OMGaDJ (feat. Virtue)
02:10:35 Gender Mutiny (Kirby Athurston) – Synthetic Dissonance [LIVE IN STUDIO]
02:15:13 Quinton Gelderman – INTERVIEW [part 2]