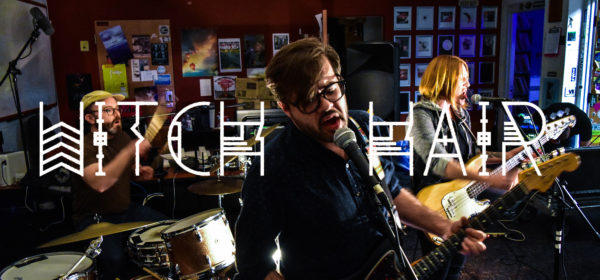 This episode is the first time we had a live studio audience on the show! It was a request by Ashley of Witch Hair, a local CT band that plays lo-fi indie rock in a similar vein as Pixies. Joe and Tom make up the rest of the band. They really have a killer sound. The first 2 minutes are the promos that were recorded for this episode followed by an on-air promo. Live performance at 0:14:05. Interviews begin at 0:43:32, 0:48:45, 1:17:26, 1:44:28, and 2:04:17.
Thanks so much to everyone who came to see Witch Hair perform live in the WXCI studios. An extra special thanks to Michelle Spanedda, who was the photographer and videographer for the evening.
Photos and videos below playlist.
Witch Hair – Say Anything
The Black Angels – Currency
The Amps – Tipp City
Witch Hair – Cracked Pavement [LIVE IN STUDIO]
Witch Hair – Halo [LIVE IN STUDIO]
Witch Hair – Pearl [LIVE IN STUDIO]
Witch Hair – Motorcycle 1 [LIVE IN STUDIO]
Witch Hair – Motorcycle 2 [LIVE IN STUDIO]
Witch Hair – Sanctuary City [LIVE IN STUDIO]
Witch Hair – Say Anything [LIVE IN STUDIO]
Witch Hair – You Are Not a Surface [LIVE IN STUDIO]
Witch Hair – INTERVIEW
Hinds – San Diego
Witch Hair – INTERVIEW
Forth Wanderers – Slop
Dr. Martino – Anna May
Summer Cannibals – The Lover
Esben and the Witch – Marching Song
Witch Hair – INTERVIEW
Diet Cig – Tummy Ache
Sonic Youth – Incinerate
Scott & Charlene's Wedding – Delivered
Angel Olsen – Shut Up Kiss Me
Slothrust – Trial & Error
Witch Hair – INTERVIEW
Witch Hair – Somewhere High
Priests – JJ
Sleigh Bells – It's Just Us Now